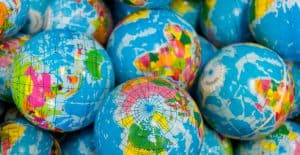 Add Your Heading Text Here
As leader of a global organisation, I'm reflecting on how the last 12 months have impacted our business and our people. Uncertainty and disruption have of course been key themes this past year, but I have seen these balanced out with some great examples of collaboration, ingenuity and adaptability between ourselves, our partners and our customers.
Restrictions on international travel
Travel has always been part of our business model. We quickly mobilise engineers and tools all over the world to perform cased hole logging operations. When the world essentially shut down during the pandemic, this affected us in many ways – we were unable to travel freely for work, we couldn't visit our customers in person, jobs were delayed, lead times were extended. We had to make quick strategic decisions to safeguard our people, keep work coming into the business, and be ready to support our customers' logging activities when they could take place. I'm proud of the way our team stepped up in these challenging circumstances. We had engineers volunteering to temporarily locate to places like Kazakhstan and Qatar, knowing they would be away from home for months on end because of border closures, lockdowns and quarantine rules. Our Service Delivery team has embraced remote logging and maintenance, so that customers can receive expert real-time support even when we can't be there in person. And I also want to mention our partners, both existing and new alliances we've entered into recently. These collaborations mean we can work in areas where we simply haven't been able to travel to, through local partner-led integrated service models that offer our logging tools and services as part of a wider package.
Industry-specific challenges
The oil and gas sector has really suffered with the drop in oil price (now thankfully coming back up), reduced activity across the sector, increased competition and more and more work being awarded based on price rather than quality. This is hardly surprising given the economic climate brought on by COVID. When quality has been the cornerstone of your business model for over 30 years it's difficult to see price erosion like we have, but businesses have had to adapt. 
Pursuing new business
I mentioned it earlier – zero travel and zero face-to-face client meetings have meant a whole new way of working. We were already using Microsoft Teams and have definitely seen its value throughout COVID. From empowering our BD team to continue pursuing new opportunities anywhere in the world with virtual video conferencing, to enabling us to stay connected with existing customers, partners, suppliers, and of course each other. Digital marketing has also played its part. We use a variety of social media and digital delivery channels, as well as our online web presence to share relevant and timely information with customers, facilitate new business introductions, showcase products and services that can add value to oilfield operations, and offer technical insight through webinars and white papers.
Separating data acquisition and data analytics
In April this year we announced the demerger of our data analytics team to form ANSA, a fully independent and separately run business. Data analysis has been an integral part of our service offering for 30 years, so this truly was a big step for both sides. But what does the demerger mean in practice? Well, READ and ANSA now operate as two discrete businesses, each with their own teams and revenue streams, focusing on their core strengths. For READ, that means continuing to mobilise our specialist cased hole logging technologies to support customers' well integrity, production logging and reservoir evaluation requirements. And for ANSA, it now has the freedom to explore opportunities beyond oil and gas for its independent data analysis and interpretation solutions. And when it comes to READ's service offering, we'll still provide a full scope of top-quality data analysis, but from now on through ANSA as our trusted partner like the other service companies ANSA supply. You can see all ANSA data analytics services on their new website. One thing I'm excited for is seeing ANSA's latest pioneering analysis platform based on Artificial Intelligence and Machine Learning coming to the market this year. A core set of analysis reporting techniques will become fully automated – ultimately to give clients faster, more reliable, consistent and cost-effective results.
Getting ready for the next chapter
As our sector recovers and rebuilds following the pandemic, I believe READ will continue to operate in our 'new normal' where remote operations, virtual connectivity with customers, partnership-led logging and flexibility may not necessarily replace how we used to operate outright but will certainly remain options where and when right for our customers. Currently, there are READ tools strategically located with our partners in key locations – Tunisia, Germany, Mexico, Saudi, Kazakhstan and North America to name a few – so that together with intervention specialists like WWS Tunisia, BPC, Armada and Titan Oilfield Services and other larger multinational service companies, we'll be in great shape to meet customer requirements. And even though READ and ANSA are moving forward as independent businesses, each can become more streamlined and focus on what it does best, and I'm excited to be part of this continuing journey.
Going forward, I'll be sharing this blog platform with subject matter experts from across the READ business. They will use their own knowledge and experience to continue the conversation by looking in depth at areas such as new technologies, business development and industry trends.